ON-SITE WORKSHOP | PUBLIC WORKSHOP
Coaching Beyond the Team
Agile coaches and Scrum Masters face many challenges. They have no authority to insist people listen or do, yet managers and executives expect organization-wide results from their activities. Furthermore, many executives see clearly how teams should change, but don't see how the environment or their own actions impact teams. Handing those managers an impediment list isn't a winning strategy.
In our Coaching Beyond the Team workshop, you will learn how to establish credibility and rapport to influence and coach beyond the team. You'll learn how to use diagrams to create understanding, and share data in a way that enables managers to take action.

Through simulations and small group activities, we'll explore common organizational patterns and dynamics. Through discussion and practice, you'll learn tools that will help you communicate the changes needed to unleash productivity.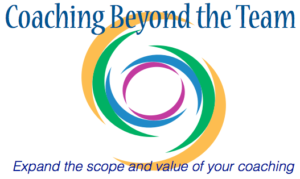 The workshop's design and content will take your skills to the next level. You'll learn techniques for understanding the real problem. New analysis tools will reveal the real company, which bears little resemblance to the chart hanging on the wall. Experiential exercises will make this part of your coaching DNA.
Learn more at coachingbeyondtheteam.com
THROUGH SIMULATIONS AND GROUP ACTIVITIES
You Will Learn:
How the way you enter a group impacts your ability to coach.
How to see the visible and invisible structures in the organization which sustain the current pattern.
How problems extend into the organization.
How to discover and depict factors that affect the situation, and how they influence each other.
How to choose which actions to take first.
How to engage others in joint problem-solving.
Testimonials
What People Say
It's great if you're feeling like you're stuck. The class gives you some tools to look at a problem in different ways that lead to new insights and a confidence that there are things you can do to be useful.
Years of research in complex fields distilled into an applicable set of principles and toolkits. This workshop will allow you to understand any organization and put in place the work to improve it.
A hands-on workshop with brilliant facilitators / teachers that gives you insight and courage about how to approach your challenges.
A great mix of theory and practice. Exercises use each attendee's issues and contest, leading to real-life changes and actions which are easily begun.
Ready to bring "Coaching Beyond the Team" to your company?