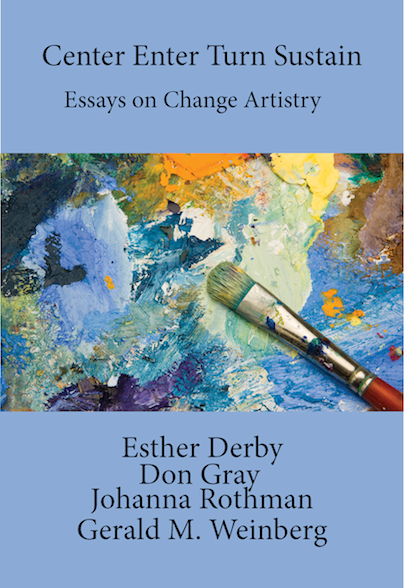 Center Enter Turn Sustain: Essays in Change Artistry
by Esther Derby, Don Gray, Johanna Rothman, and Gerald M. Weinberg
This collection is available in PDF, mobi and epub formats on LeanPub
A Change Artist is someone whose presence improves everyone's chance of making a positive change. Change Artists don't drive change. They know that supporting deep change requires empathy, systems-savvy, and an array of other skills.
Learn to Center, Enter, Turn, and Sustain change with masters of change artistry.  In this collection of essays, you'll find guidance on:
connecting with others to help them change
listening for the wisdom behind "resistance"
making change a productive, creative event
negotiating for what is needed
seeing and influencing underlying structures and systems
observing exactly what is happening
recognizing the stages of change and act in a way that supports both people and change.
Readings For Problem-Solving Leadership
By Esther Derby, Don Gray, Johanna Rothman and Gerald M. Weinberg
This collection is available in PDF, mobi and epub formats on LeanPub
For more than 30 years, PSL has been the gold standard for leadership training in the software field. I'm delighted my essays in this reader have been helping people learn to lead.